Endmoun is an Egyptian company was Founded in 2004 by Dr. Aly Ghaly in New Borg El-Arab City- Alexandria. Endmoun is looking to be a big producer and supplier for many types of resins which is used in the application of paints (auto refinish system), pastes, and industrial uses.
We are committed to "Total Customer Satisfaction" through design, manufacture, supply of high quality resins and Technical support.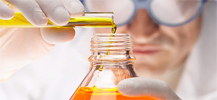 Our Products range are

Unsaturated Polyester Resins:

Marble Adhesives
Wood coatings
Car refinish putties
Hand lay-up / spray up
Filament winding
Infusion and RTM
Pultrusion and SMC
Continuous laminating
Casting Resins
Chemical resistance

Ancillaries:

Initiators
Accelerators/Promoters
Inhibitors
Fumed Silica
Styrene Monomer
Low Profile additives
Low shrinkage additives

Acrylic Polyol Resins:

Primers
Basecoat paint
Clear coat
Solid color top coat

Alkyd Resins:

Long Oil Alkyd Series
Medium Oil Alkyd Series
Short Oil Alkyd Series
Speciality & Other Resins
History

Endmoun was established in 2004 to be one of the pioneers companies in the middle east with capacity of 3000MT/year of Unsaturated Polyester resin. In 2010 We doubled the capacity to be 6000MT/year of Unsaturated Polyester resin. In 2014 we expand to have more than 18000MT/year of Unsaturated Polyester resin and 10000 MT/year of Acrylic polyol Resins.
Mission

Our mission is to create, develop, produce and providing innovative resins that help our clients to create an innovative paints and coating products for multi-purposes usage by using the latest technology in responding to the changing needs in the market for both industrial and customer uses. Bearing in our mind that our qualified employees are our best resources in growth.
Vission

To be a market leader in every field throughout the composites industry, coatings and industrial resins in Egypt and Middle East.